There are lots of things for kids to do at our show!
Touch and See Tables
Ask for a free sample of Serpentine, the California State Rock.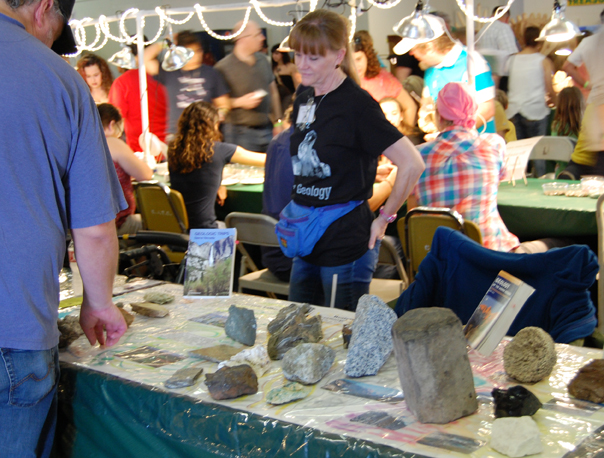 A favorite display for all ages. This is an area where you may touch the items on the table to examine and ask questions. Touch and See tables include most of the rocks discussed in the California Earth Science Books for grades 2 - 8. Information is designed to reinforce the CA State Earth Science Standards.
Shark Attack!!!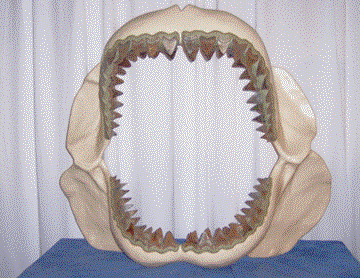 Visit the Tethys Ocean Project
Stop by the Tethys Ocean Project exhibit to see Megladon, the largest shark to swim the Earth, Hammer Head Shark, Great White Shark Jaws, and several other strange ancient fossils. Dr. Alan Schaffert, his wife Cris, and their family will be on hand to talk about this amazing marine fossil exhibit. And be sure to ask for a free shark tooth.
Dinosaurs!
We will have REAL FOSSILS on Display!
I Dig Gems and Fossils!
A new activity for kids! Buy a bag of dirt, screen it out and find the treasures hidden inside!
Treasure Hunt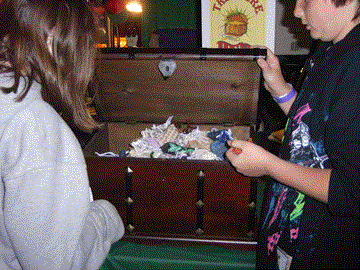 The treasure hunt is a fun activity for children of all ages to find several items located throughout the display cases. Take time to search with your children for each item then after you have filled in your treasure hunt form, turn in for a GRAB BAG from the treasure chest!
Wheel of Fortune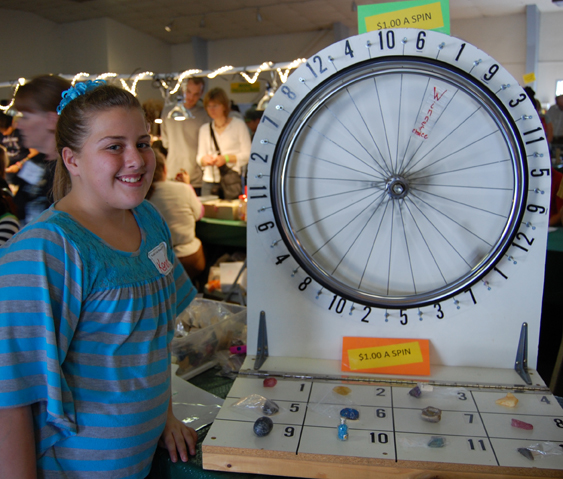 Our Wheel of Fortune is a large wheel with numbers on it. You spin it and watch until it stops on a number. You get to keep what ever is sitting on that number! You might win a tumbled rock, petrified wood, dino bone or even a thunder egg
Geode Cutting
Buy a geode and watch as it is cut in half to expose the internal beauty!
Be the first person in the world to see the inside of the geode that was cut just for you.
There are several sizes of geodes to select from.
Bead Bracelet Table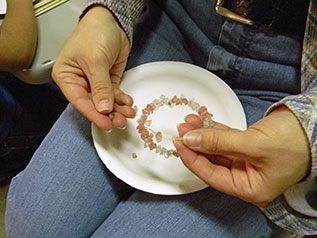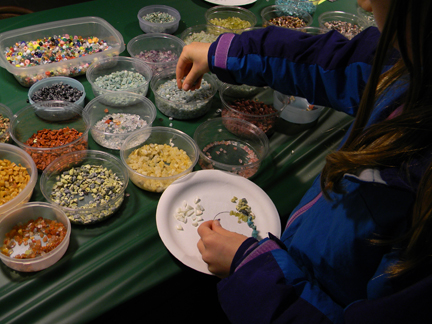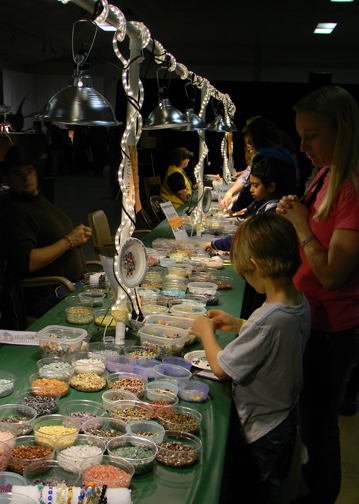 Learn how to make a colorful bracelet from natural stone beads. It's fun and easy to do!
Gold Panning!
Learn how to pan for real gold from the experts. The Delta Gold Diggers will teach you the proper way to pan. And you get to take home real gold!